First, watch this amazing video created by a newspaper industry research group. It depicts the digital newspaper of the future. The surprising part? The video was created in 1994! And yet the newspaper industry didn't listen to their own research.
Your homework over the holiday weekend isn't to learn the lessons of the video, but rather consider why it's advice wasn't heeded. It did not have any impact on the industry that sponsored it, which is now suffering the consequences.
Does amazing design and research have any real value if it doesn't effect any change? What can we do to make our design have more impact?
posted Wed, 23 Nov 2011 05:29:09 +0000
permalink
This is a short video (~6min) where Tim Berners Lee (Mr. Web himself) talks about the successes of open data. Take special note of the end section where the Open Street Map project is used to help relief efforts in Haiti after the earthquake.
posted Mon, 12 Jul 2010 15:24:34 +0000
permalink
Yes, the future is now, and not just because I bought a 2TB hard drive for less than 150$. Bionic hands, self driving cars, and printable solar cells...
Bluetooth has a use?!
While it hasn't been widely known, because I am not widely known :), I haven't been a big fan of Bluetooth devices. Due to their short range they end up simply replacing 6 foot wires, at an increased device cost and the extra hassle of having one more thing to charge (plus interference with endless other devices). But here's something that might change my mind..a a bluetooth hand!
This prosthetic hand lets you tweak settings via Bluetooth. It can handle up to a 200lb load, which clearly puts it into the six million dollar man range. Hmm. Perhaps that wireless technology is good after all.
Autonomous Audi TT
James Gosling, inventor of Java and my former co-worker at Sun, has been helping some Stanford students work on an autonomous car. Along with Audi, they've announced a TT-S that will attempt to drive the Pike's Peak International Hill Climb. (PS, it's partly running Java and Solaris).
eBooks as eJournalism?
Imagine the world two years from now when the tablet form factor is successful and we are all eReading. Monday Note tackles the question. Less overhead, easier access, newer long form formats emerge. The ebook as a form of journalism. The future might be Awesome!
Paper Solar Cells
They say that the key to making something cheap is to find a way to build it using microchip technology. Then you get to free ride on Moore's law and have someone else fab it for you. Flash memory followed this trend. So did accelerometers. They were once mechanical devices the size of a soda can. Once they could be made using CPU fabbing techniques the price and size dropped precipitously, and now they are being embedded in virtually everything.
So what's the next step beyond microchip tech... paper. If you can make something printable on paper then you can make it cheap. Amazingly cheap. And what's what may happen with solar cells. MIT has demonstrated a solar cell technology using essentially a fancy inkjet printer. The efficiency isn't great, but if it's a factor of a hundred cheaper than ridge cells no one will care.
posted Tue, 11 May 2010 19:18:17 +0000
permalink
20th century advertising has taught us to associate quality artwork and polish with quality products. Given two apps that do the same thing, a potential customer will pick the one that looks and feels better. This means every great app needs great art. Since most developers aren't artists or designers by trade, I've assembled a list of resources that can help. Here are icons, fonts, sounds, color schemes, and other great art assets to help you make your app stand out from the crowd.
Color Schemes
Good use of color can really make your app stand out, but color can be tricky. The best color schemes often come from other people or real world objects. These sites have collections of color schemes created by people who work with color every day. They let you search by color, theme, and popularity.
COLOURlovers
COLOURlovers is a creative community where people from around the world create and share colors, palettes and patterns, discuss the latest trends and explore colorful articles... All in the spirit of love. (yes, they wrote that part)
Kuler
Kuler at Adobe is a Flash based color searching site.
For more on the topic of color see my Color 101 article.
Icons
Every great app needs great icons. Not only for the app itself but also within the application for buttons and indicators.
The great FXExperience blog has several free PNG icon collections that are generic and useful for lots of things. Most are small so they work well on mobile devices. Free icons for your JavaFX applications @ FX Experience
The Crystal Clear icon set by Everaldo is licensed under LGPL and includes icons for apps, actions, devices and mimetypes.
The Nuvola icon set contains 600 icons with a cute cartoon feel to them.
Icon sets for Gnome, under various licenses
Tango Icon Library: another very complete set of desktop icons.
Sounds
FreeSound.org
Free Sound has a huge collection of user contributed effects, clips, and just plain weird sounds. Great for building sampled music and effects in your games
Jamendo
Jamendo is a music site containing only Creative Commons licensed works. The perfect place to find your next soundtrack.
Imagery & Textures
Lost Garden
Lost Garden focuses on video game design. The author, Danc, has literally decades of experience in the field. You can easily lose hours reading through amazing essays on the site. Today, however, we are here for the free game graphics. Spanning both vector and bitmap, retro and modern styles, Lost Garden has game graphics for many uses
Open Graphic Design and Think Design blog
OpenGraphicDesign.com has tons of cool shapes and vector artwork. They are great as starting points in Illustrator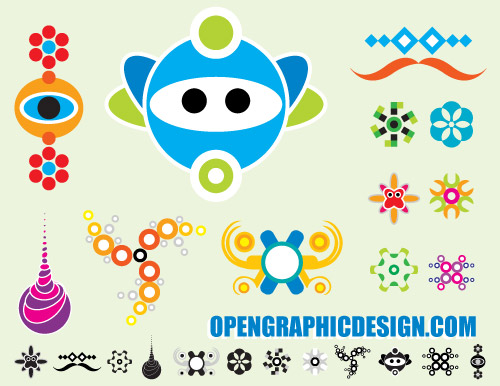 ThinkDesignBlog.com has free textures and vector shapes. Good for backgrounds and skinning. Plus tons of inspiration articles.
Photos
For photos your best source is images licensed under Creative Commons at Flickr. Conveniently they have a search option for just such photos.
Inspiration
Well Placed Pixels is a blog containing only one thing: screenshots of beautiful software.
posted Wed, 28 Apr 2010 23:08:50 +0000
permalink
A round up of interesting stuff I've been collecting lately. An interview with Philippe Starck, vintage ads, UI design tips, and electronic comics.
Philippe Starck
Last fall Engadget did a short interview with legendary designer Philippe Starck. Wonderful insights on the world of design and creation.
Also check out the bonus round of word association with Philippe.
eComics
The most interesting ebook applications to come out of the iPad hoopla is actually the comic book readers. Most readers seem to treat ebooks just like books and focus on recreating the experience of reading a printed book, complete with faded paper and page curls. Only the comic book apps seem to be exploring new forms of interaction, stealing liberally from cinema. Kicker Studio has a great overview of the cinematic reading of electronic comics.
UI Design Tips
Flyosity has a great article on Crafting Subtle & Realistic User Interfaces. Starting from the basics of light it goes through using borders, gradients, and highlights to create the illusion of depth.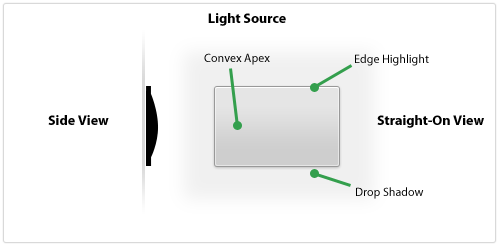 Advertising Through the Ages
A great Flickr set of ads from the fifties. I just love the style from that era.
The Evolution of Print Advertising. What it says on the tin: a brief history of ads from the 1760s to the present. I love how in the 70s even banks used psychadelic imagery.
posted Wed, 21 Apr 2010 19:31:15 +0000
permalink
Tomorrow we will hopefully awake with news of a magical Apple tablet, so tonight I thought I'd give you a few things to read as you drift off to tablet dreamland with touchable sugarplums.
I had the incredible fortune to meet Marc Weiser when I was an intern at Xerox PARC. We are now building the world he firmly believed would come to pass; a world full devices. A world where computing has disappeared into the fabric of our everyday lives. He divided the device landscape into several forms, as described in this article. (from Designing Devices)
Many first-generation tangibles have been whimsical and artistic explorations of what new technology can do. Some are simple; some, more complex. Some are elegant embeddings of display and projection. Some celebrate new materials. Some add sensing in clever ways. The field is still wide open, but one thing is clear: We're likely to see more, not less, programming in things, and a lot more experimentation.
(from the
ACM
)
When choosing icons and other symbols for your application it's important to remember when to use realism and when not to. A graphic which is too realistic can actually make it harder to recognize and use. (from ignore the code)
Many years ago Jeff Raskin designed an ultimate device he called the information appliance. This article details his design and how it might match up to the iTablet. (from Gizmodo).
Who knew eyetracking technology started in 1879! (from the UX Booth)
Yes, Microsoft has designed a game into the latest edition of Office. The goal is to teach you how to effectively use the Ribbon bar. (from Lost Garden, an awesome site on game design)
Edison's Nickel based 40,000 page book and other future technology visions that haven't quite come true. I love yesterday's tomorrows. (from Technologizer).
(Apple Tablet photo courtesy of Flickr user Rego)
posted Wed, 27 Jan 2010 02:39:35 +0000
permalink
40+ Vintage Posters to Inspire Your Next Designs Color Palette
From The Design Cublicle: [link]
I'm always looking for design inspiration, especially trends from previous eras. This link has forty really cool retro (or at least retro-looking) posters that pop with great colors. The Nerd eyeglass pattern is one of my favorites.
10 Tips for Creating Compelling Web Copy
From the Web Design Ledger: [link]
Part of creating a good experience for your users is the language you use on your website and in your documentation. Your text must engage the reader and keep them entertained as well as informed. And most of all you must not waste your user's time. After all, user is just short for future customer, and customers don't want you to take them for granted.
Complete Beginner's Guide to Interaction Design
From UX Booth [link]The title says it all!
Yahoo! Design Pattern Library
Yahoo: [link]
Found via the aforementioned guide to interaction design. A catalog of different design patterns from accordion to the convention of labeling stuff with Your.
Branching is Fun
From Mr. Doob [link]
Not at all design related, but I'm a sucker for cool visualizations and graphics effects.
And for when you really must think outside the box
[found via Peta Pixel]
outside the box from joseph Pelling on Vimeo.
posted Mon, 14 Dec 2009 00:19:17 +0000
permalink